Our Pennsylvania Department of Education approved 30 Hour Online Driver's Education Course provides new drivers with the principles of driving, covering every aspect of the road new drivers need to know.  The course covers topics that provide students with the skills necessary to obtain a Pennsylvania Driver's License and most importantly, to become conscientious drivers.
Packages & Rates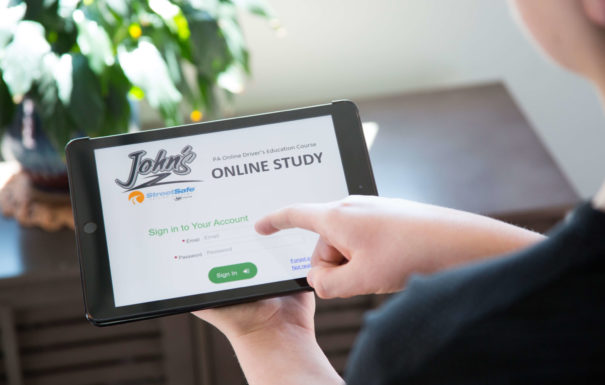 Online Theory Driver's Education, Driver's education at home!
Once enrolled, students can access and review the information online, anytime, anywhere, at their own pace.
Upon completion of the 30 Hour Online Driver's Education Course a certificate of completion is sent via email, which in combination with the completion of our 6 Hour Certified Behind-the-Wheel Defensive Driver's Education Course, may qualify the new driver for a new driver discount through many insurance carriers until the student is 21 years of age.
Course consists of 9 chapters and special features in the form of .pdf documents, videos, and supporting websites.
Proper Attitude and Control Systems for Safe Driving
Pennsylvania Driving Laws and Regulations
Understanding Vehicles and Vehicle Controls
Perceptual Skills Development
Basic Driving Skills
Distracted Driving and Influences upon Driver Performance
Driving under Hazardous Conditions
Driving in Different Environments
Sharing the Road
The Pennsylvania Department of Education requires students to spend a total of at least 30 hours studying the course content before the final exam will be accessible.  Upon passing the final exam with a score of at least 75% a Certificate of Completion will be issued and sent via email!
Please note the fee for this course is non-refundable.
SPECIALIZED DRIVER SERVICES:
Au Pair Behind-the-Wheel Safety Evaluations
C.A.T. Clinic (Collision Avoidance Techniques)
Court Diversion Behind-the-Wheel Lessons
Senior Refresher Lessons & Evaluations
Specialized instruction for students with varying abilities
More Details