John's Driving School is the largest certified private driver training school in Pennsylvania, licensed by the Pennsylvania Department of Education.  John's Driving School is also a PennDOT Certified Third Party Testing Center for Class C Non-Commercial Driver's License permit holders.  John's Driving School is part of the John's Family of Companies which is family owned and operated, providing the fundamentals of driving since 1978 to new and experienced drivers. The family of companies encompasses John's Driving School & Auto Tags, Inc., Fidishun Insurance & Financial, I Can Drive LLC., and StreetSafe Driving Academy, with 12 total locations, eight testing centers, four insurance agencies, and multiple driving school service areas throughout the state. With over 40 years of experience, our mission is to continue providing excellent instruction in the art of driving.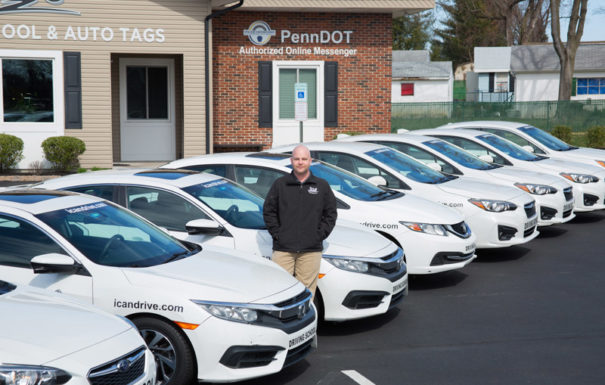 We recommend you do your research. Please review and confirming the following guidelines when looking for a Driving School.
    We want to thank 6abc Action News, State Representative John Galloway, and Senator Frank Farry, for helping us educate our community on what to look for when researching and selecting a Driving School! We also want to assure you that John's Driving School exceeds the required standards of the Department of Education and the Department of Transportation. All of our Instructors are properly licensed and trained.
Meet Our Team
Our team of certified instructors and examiners have the experience you expect and deserve!
Took my drivers test here. Failed the first time but the examiner gave me some really great tips and told me what to work on. Just took the test again today and passed. I didn't take lessons through them but I can tell they are very helpful and informative, I definitely recommend
We chose John's on the recommendation of pretty much everyone we know who used a driving school. My son's instructor was excellent. Even after just the first two hour lesson I saw a complete change in my son's driving skills and confidence. After his three lessons he took his driving test at John's, and he passed his first time. We will be using John's Driving School for my daughter as well, and I highly recommend them to everyone.
I was hesitant to sign my son up. I did some research and the cost of the school (30 hour online course, 3 – 2 hour driving lessons & driving exam) seemed expensive compared to the savings you get from the insurance company. I think it was more than 2 years before I would get the money back so we decided not to do it. It came time for his test and I was just not comfortable with him driving yet so I bit the bullet and signed him up. Let's just say it was the best money I ever spent and I regret not signing him up earlier. He is now a confident driver and I am confident with him out on the roads. To anyone deciding if this worth it or not, I WOULD HIGHLY RECOMMEND IT! Great service, great instructors and overall a very pleasant experience.
Fast friendly service. So much easier than waiting for PennDOT. They were so nice!
One of the best things that I could've done for my son was to get him the lessons. He was able to learn do much more than I could've taught him. Being a single mom I needed the extra help and he was able to learn from different individuals. By having the instructors come to the house to get him for the lessons I was able to have some more free time available to me. Through the 30 hour theory course my son was able to understand some of the laws and the functions of the car better. The driving test was more relaxing to my son since he didn't have the horrible anticipation of having to wait in any lines. Scheduling everything with the front office was a breeze too. John's is a great company with excellent communication to the parents about their children's progress too. I will absolutely have my daughter go through lessons with John's also. ZERO COMPLAINTS.
Great place so convenient if your trying to get your license this place saved us so much time and money 100% recommended.