Warminster, PA Driving School
At John's Driving School, we provide instruction in the art of driving to young adults and adults in Warminster, PA. With more than 40 years of experience in teaching the serious business of driving throughout Bucks County, our personalized course will teach you how to become a safer, more confident and more experienced driver.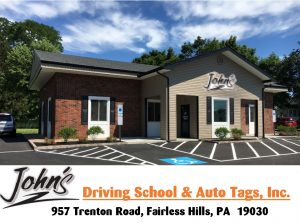 Below are a few things that sets John's Driving School apart:
Driver's License Testing:  We are certified by PennDOT to administer the the Class C Non-Commercial Skills Test as a PennDOT Certified 3rd Party Testing Center.  Why wait when you can schedule an exam in as little as 48 hours.
Friendly Scheduling: We know you're busy, and will work with you to choose the best driving package and instructor for your needs. We'll pick you up and drop you off at home, work, or school.
Comfortable Environment: We offer a comfortable, friendly environment with limited distractions. If your first lesson with us is your first time behind the wheel, we'll make sure to calm your nerves.
State Certified Instructors: All of our instructors are state certified and are up-to-date with the latest training techniques.
PLEASE NOTE, SOME AREAS OF WARMINSTER MAY BE PART OF OUR EXTENDED SERVICE AREA. PLEASE CALL FOR MORE INFORMATION.
Learn more about our driving packages and prices by clicking here. Make an appointment today by calling 215-295-8014!
Located in central Bucks County, Pennsylvania, Warminster Township is a lively community with over 32,000 residents and more than 900 commercial businesses. It is easily accessible to the Pennsylvania Turnpike, I-95, and major regional bus and train corridors. We service 18974, 18991, and surrounding areas.